LETHBRIDGE'S PREMIER MOBILE ART STUDIO
You've

got

a great gift

there

!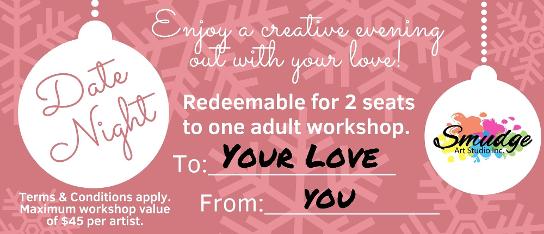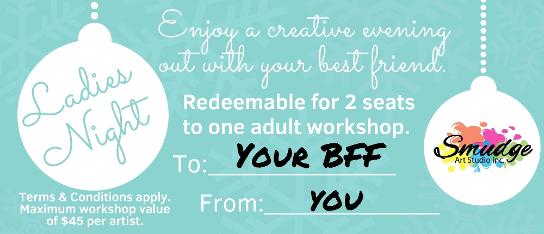 It was Christmas 2019 ... and the world felt right ... families gathered ... friends exchanged hugs and gifts in person .... and you got this gift certificate from a loved one to use in 2020. Then ... we closed the studio ... and then ... COVID. I don't really want to relive 2020.
The gift certificate that you received had an expiry date of 30NOV2020. Life has changed ... but we are back, baby! And you can use your gift card to a Paint & Sip at one of our partner venues until 30NOV2022 (further extensions will not be provided so be sure to use it soon!). To use your gift certificate, add your Table for 2 or Table for 3 to your cart and, prior to check out, click to Redeem Coupon Code. When you click there, enter the code that is on the back of your gift certificate as a COUPON CODE and apply it to your purchase. If you have any issues at all, please CONTACT US via email so that we may assist you. We'd really love to create great art with you!
Note: These are the only gift certificates we have outstanding. All other gift certificates have expired.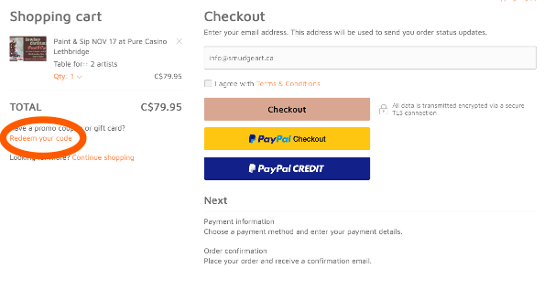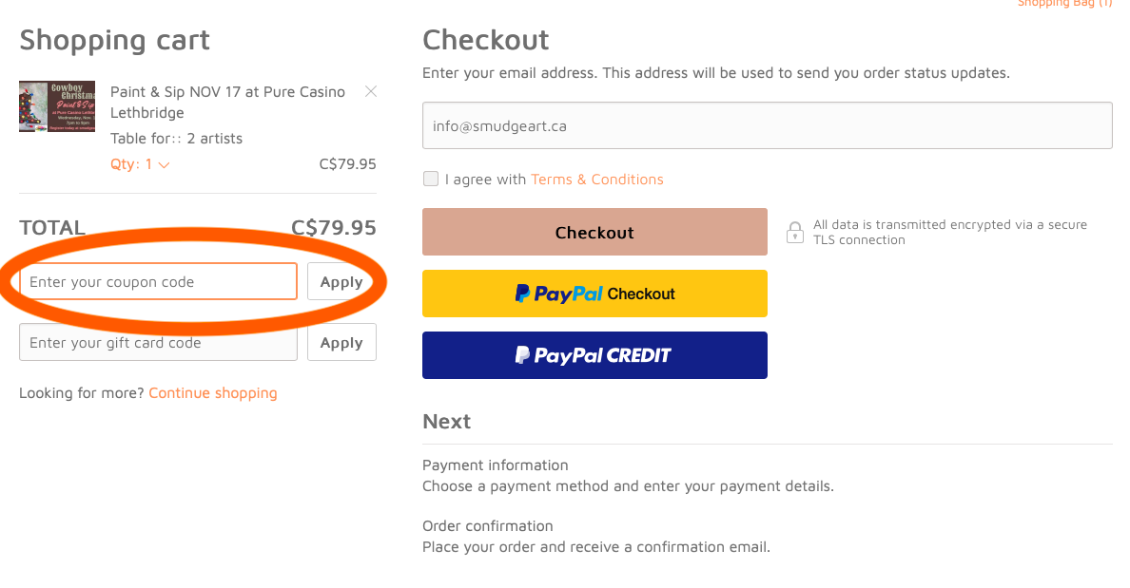 Why Smudge?
Because you deserve to create well!
Carolyn
Smudge is the best of the best! Have taken several classes with them and they are fantastic. All of the instructors are knowledgeable and friendly and really make it a great experience. I really have no artistic talent, and am always pleasantly surprised at how well my paintings turn out. Keep up the fun ladies!!
Mona
We booked a private event with Smudge and they were so awesome with our group! Wouldn't hesitate to do it all over again. They were so helpful and accommodating! We had so much fun!
Rachel
Smudge is wonderful! I love that Smudge is actually an art school! They treat you like an artist from the start, and help you learn to be a better one. They will never tell you your work is good or bad. They will give suggestions if you ask, or teach you how to do something, but they will never paint on your canvas. The art is always yours.
Renee
What a fun evening! A group of us girls left the kids and hubbies behind and came to paint. I had such a good time, and felt relaaaxed. Smudge provides a wonderful easy going atmosphere and had lots of good tips. Perfect place for a girls' night out!
Some of Our Masterpieces
Just a few of the over 200 masterpieces we have created for you!