LETHBRIDGE'S PREMIER MOBILE ART STUDIO
You are the lucky recipient of one of the plastic gift cards that used to only be accepted in-studio. We are now happy to tell you that you can redeem them online!
Take a look at the back of the card. Highlight the last 9 digits, and then remove the last number so that all you have is 8 digits (see photo below). These 8 digits are your online gift card number that you will enter into the discount code section of our online store.
Your gift card is for a dollar value redemption off of the total value, including GST. Because of this, you will see GST removed from your dollar discount when you enter it.
For example, let's say you've purchased something for $25 + GST, and you had a gift card for $5 to use.
This is what you would have seen in-studio:
$25 + GST = $26.25
Less $5 gift card = $21.25
This is how it will now look:
$25 - $4.76 Gift Card + GST = $21.25
*Your payment of GST is removed from discount amount* GST is a federally regulated tax and is due at the time of purchase.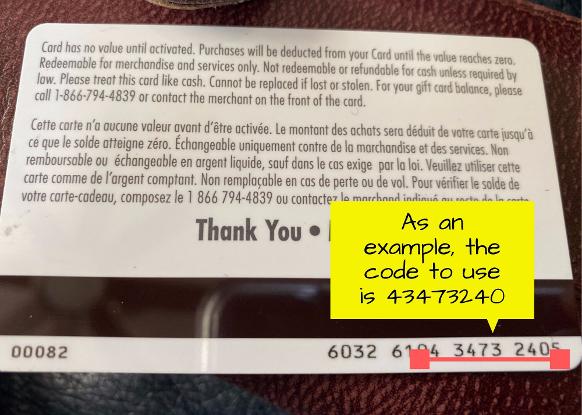 Our gift cards previously issued in-studio are no longer being administered by Elavon, so if you call the 1-866 phone # on the back of your card, it may not give you a correct value. Please
email us a photo
of the back of your card to find out the balance on it.
Because you deserve to create well!